Super Abrasives - CBN & Diamond - Vitrified Bond
CBN/Diamond Internal grinding wheels, straight shaped or preformed.
Our continuous ring wheels are available in diameters up to 120mm. The CBN/diamond layer suits the effective working area.
Click here for more information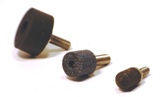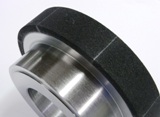 We manufacture and put together CBN/diamond segments to metal supports for diameters up to 600mm.
We also remove and replace used segments when necessary.
Click here for more information